T6YA (Pascal F5PTM)
Pascal thanks all OM which call, it does the utmost to satisfy everyone.
Pascal Remercie tous les OMS qui appellent, il fait le maximum pour satisfaire chacun d'eux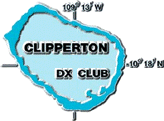 Ex : TU2/F5PTM , OD5/F5PTM, TT8ZZ , DXpeditions : 6W, TO4E & TO4WW Île Europa ect..
Pascal was to belong to DXpedition "FT5GA" Glorieuses isl, but its JOB in Afghanistan did not allow
Last update : 24 octobre 2009 09h45 UTC
6152 QSO's Logged
Important: Please not to make a QSO in double on the same BAND, only one QSO per band to leave the chance to the others
by advance thank you

"The news on down page"
Dernière photo : F3CW, F5LEN, F6DDR F5PTM (debout), repas avant son départ en OD5 / LIBAN

The last photo : F3CW, F5LEN, F6DDR F5PTM (upright) , meal before its departure in OD5 /LEBANO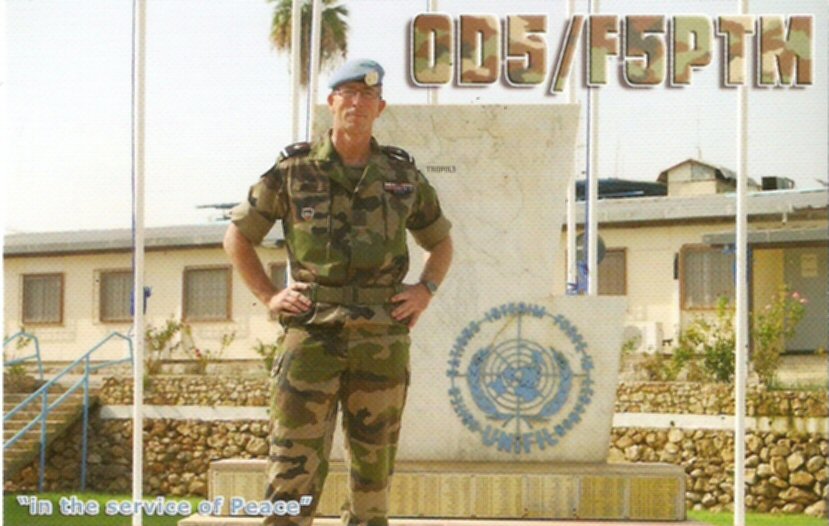 TT8ZZ Tchad Pascal with ZX9R Kawa - Team TM5Z Contest meal ( F5RMY-F5PTM-F8UNF-F4CDJ-F3CW-F6DDR-F5LEN )
Trophee F8EX 160m

( F5PTM-F3CW-F6DDR )
Son shack en Afghanistan / its shack in Afghanistan
Vous remarquerez que Pascal ne manque pas d'humour entre la burka rose sur sa bouteille de jus de fruit et son casque HIx3.......
You will notice that Pascal does not miss humour with the pink burka on its fruit juice bottle and its helmet .......HIx3
Conditions de trafic TS850S 100w , Key BENCHER BY2, antenne G5RV 2x15.50m , 1 PC avec Log Win-test, 1 PC avec le Cluster F5LEN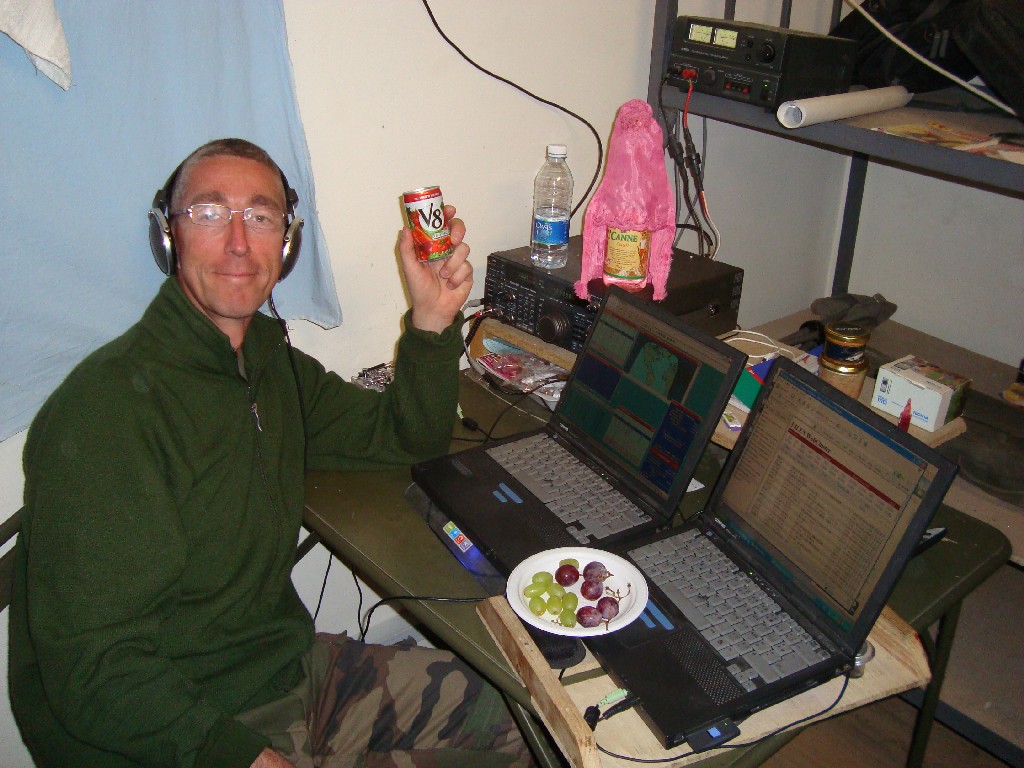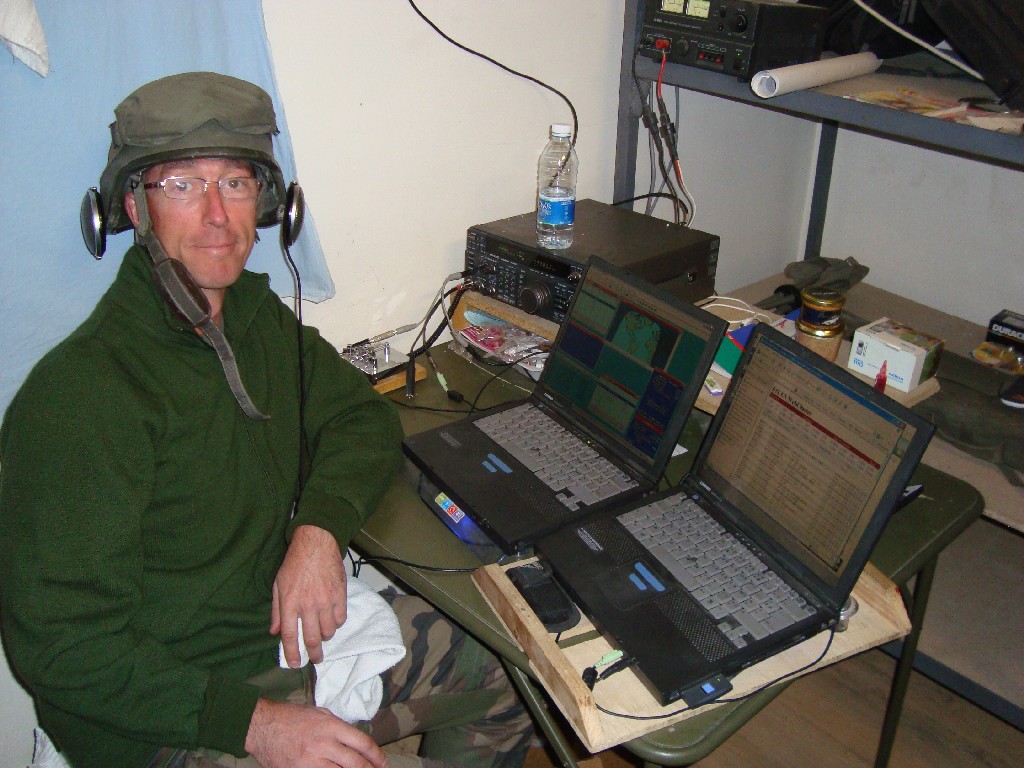 Please NO QSL direct F5PTM
QSL ONLY VIA
QSL Manager : F5OGL
DIDIER SENMARTIN

P.O. BOX 7

F-53320 LOIRON,

FRANCE

NEWS
Vendredi 16 Octobre 2009 (08h45 utc )

Hello,

Here some news of Pascal, it will send his Log as soon as possible, The connections WEB are very limited.

It is obstructed always much by a QRM S9 " BROADCAST" it has difficulties in listen to signals QRP. Its TS850 does not enable him to filter correctly. it does the utmost to satisfy all the calls.

it decided to devote every Thursday evenings to the traffic 80m

Quelques nouvelles de Pascal, il m'enverra son log dès que possible, ses connexions internet sont très limitées.

Il a toujours un gros QRM Broadcast qui le gêne pour lire les petits signaux, il fait le max pour satisfaire tous les appels, il a décidé de dédier tous les jeudis soirs au trafic 80m

73's bon trafic
Phil F6DDR
Vendredi 09 Octobre 2009
Pascal announces he will not be Actif of Oct 11 /2009 morning at Oct 12 /2009. Its regiment changes site, it will do the utmost to install its new shack quickly.
Pascal fait savoir qu'il ne sera Actif du 11/oct/2009 matin jusqu'au 12/oct/2009. Son régiment change de palce, il fera le maximum pour installer son nouveau shack rapidement.
Lundi 05 Octobre 2009
Pascal asks me to communicate this:
- sometimes it has a strong local QRM of S9+10, this obstructs it considerably to hear the traffic correctly.
- For the QSL LOTW , Pascal answered this morning , the QSL MANAGER F5OGL which transmit the LOG to ARRL for the CFM as soon as possible.
- Please not to send a direct QSL to its QRA, thank you.
- Pascal thanks all the OM which call, it does the utmost to satisfy everyone.
- Pascal fait savoir qu'il a par moment un fort QRM loca à S+10 qui le gêne considérablement pour lire correctement les stations appelantes
- Pour la CFM des QSO via LOTW , F5OGL son QSL Manager enverra le plus rapidement possible les log à l'ARRL.
- N'envoyez pas de QSL directe à son QRA, aucune réponse ne sera faite.
- Pascal remercie tous les OM qui l'appellent, il fait le maximum pour satisfaire chacun.
Audio de son premier Pile Up le 03/10/2009 à 12h00 UTC
ICI